Easylib offers training to all customers in a methodical, automated with human touch.
Easylib 6.4a Cloud Version for Libraries Training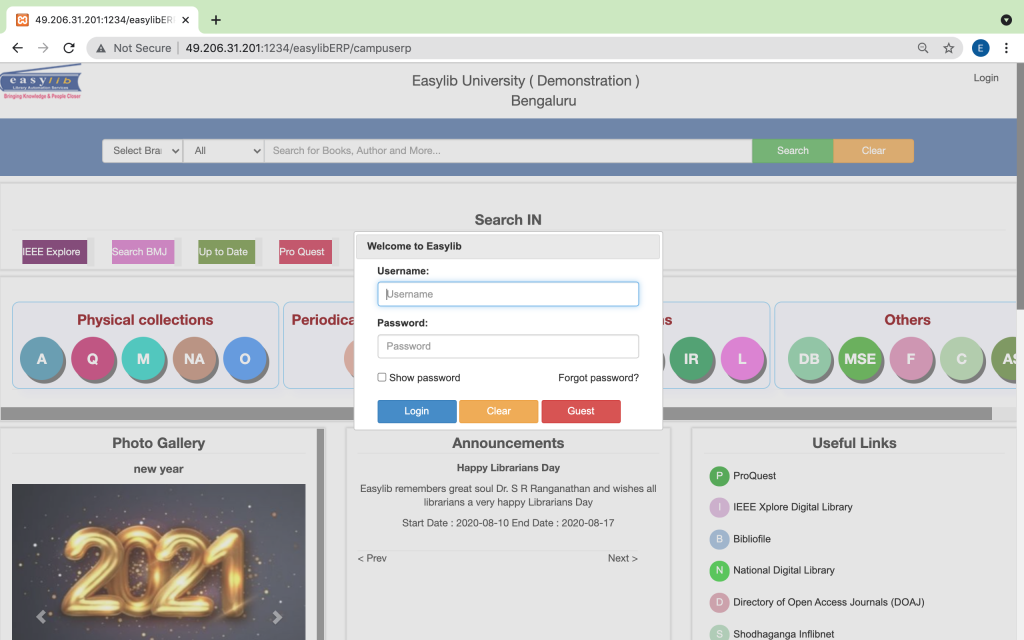 Login with your individual customer id and complete Easylib training in an organized way and also get certificate of completion. Write to support@easylib.net to request an id if you do not have one.
Option 2 – View one of the hundreds of training videos
OPAC (Online Public Access Catalogue Videos)
OPAC Video for Students
| | | | | |
| --- | --- | --- | --- | --- |
| Sl No. | Material Title | Material Type | Material Details | URL |
| 1 | Easylib OPAC Video 1 – Login details | Video | Easylib OPAC Video 1 – Login details | https://vimeo.com/565169323 |
| 2 | Easylib OPAC Video 2 – Search and Self Help Features | Video | Easylib OPAC Video 2 – Search and Self Help Features | https://vimeo.com/565171138 |
Cataloguing Module
Circulation Module
Periodicals (Serial Control)
Membership Management (Student Data Management)
Printing Barcodes
| Sl No. | Material Title | Material Type | Material Details | URL |
| --- | --- | --- | --- | --- |
| 1 | Easylib Barcode Print Demo | Video | Easylib Barcode Print Demo | https://vimeo.com/352963546 |
More Videos – Contact us to get access to all material
| Sl No. | Session Title | Session Objective | Instructor Name | Session Date |
| --- | --- | --- | --- | --- |
| 1 | Easylib Web OPAC Explore Feature | How to show case your library as a living organism. One such method is to regularly update Explore feature in the library OPAC homepage. | Navya | 23 Jun 2021 |
| 2 | Featured Books in Easylib Web OPAC | Feature new arrivals in Easylib Web OPAC easily | Navya | 23 Jun 2021 |
| 3 | Update Links on Homepage | How to set frequently used links on Easylib homepage is covered in this video. You may also link Old EPAC with this approach. | Navya | 23 Jun 2021 |
| 4 | How to set up Kiosk display through Easylib | You can manage your display Kiosks throughout the campus using Easylib software | Navya | 23 Jun 2021 |
| 5 | Easylib Web OPAC 6.2a Introduction | Its is the latest version of the software | Navya | 23 Jun 2021 |
| 6 | Easylib Barcode Print Demo | How to generate the barcode for the specific college with the label | Navya | 23 Jun 2021 |
| 7 | Easylib Overview 201909 480k | It gives the complete view of the software | Navya | 23 Jun 2021 |
| 8 | Easylib How to Add Publications | How to add your own publications to Easylib catalogue | Navya | 23 Jun 2021 |
| 9 | Easylib Accession Register 480k | Training on Easylib Accession Register | Navya | 23 Jun 2021 |
| 10 | Title Statistics 480k | Title Statistics Report in Easylib Software | Navya | 23 Jun 2021 |
| 11 | Data Quality Improvement Tools in Easylib | It gives the details about the data tools to be used | Navya | 23 Jun 2021 |
| 12 | Periodical(Receivable) | How to generate received and non receivable receipts | Navya | 23 Jun 2021 |
| 13 | Customized Statistics | It gives the customized report of the book | Navya | 23 Jun 2021 |
| 14 | Librarian Member entry | How to enter the member details to library | Navya | 23 Jun 2021 |
| 15 | Member Details | Explains when the member logins and their features | Navya | 23 Jun 2021 |
| 16 | Opac Search Icons | Icons are the shortcuts on the opac screen as they are latest updates to the software | Navya | 23 Jun 2021 |
| 17 | Periodical Module | How to generate the periodical report | Navya | 23 Jun 2021 |
| 18 | Catalogue -Statistical Report | Statistical report on Publisher, Item type and subject | Navya | 23 Jun 2021 |
| 19 | In-Out Management | It gives the details about check-in and check-out | Navya | 23 Jun 2021 |
| 20 | Set Up Module | How to set up the software for users from librarian | Navya | 23 Jun 2021 |
| 21 | Circulation-Customised Report | It gives the report on current and past transactions | Navya | 23 Jun 2021 |
| 22 | Price List Report | It gives the price list of all the books and related products | Navya | 23 Jun 2021 |
| 23 | Set Up – Member | How to give the permission to member | Navya | 23 Jun 2021 |
| 24 | Ebook | How to generate the Ebook links | Navya | 23 Jun 2021 |
| 25 | Statistic Reports-Book Master | It gives the report in statistically | Navya | 23 Jun 2021 |
| 26 | Security Module | How to assign the Security | Navya | 23 Jun 2021 |
| 27 | No due Certificate | How to generate the no due certificate for students | Navya | 24 Jun 2021 |
| 28 | Display Boards | The boards can be generated to display some important information | Navya | 24 Jun 2021 |
| 29 | Data Quality Improvement | The books that doesn't have title, author and publisher details | Navya | 24 Jun 2021 |
| 30 | Communication Module | How to generate group for communication | Navya | 24 Jun 2021 |
| 31 | Member Due List | How to generate member due and clear the fine | Navya | 24 Jun 2021 |
| 32 | How to create the new ticket | How to create the ticket when there is issues | Navya | 24 Jun 2021 |
| 33 | How to create the User Id | How to create new User Id and assign security | Navya | 24 Jun 2021 |
| 34 | Track the location of books | How to track the location of books | Navya | 24 Jun 2021 |
Easylib 7.2a Campus Administration Software Training
Reach us to get access to more videos