EasyOne for your Campus and EasyLib for your Library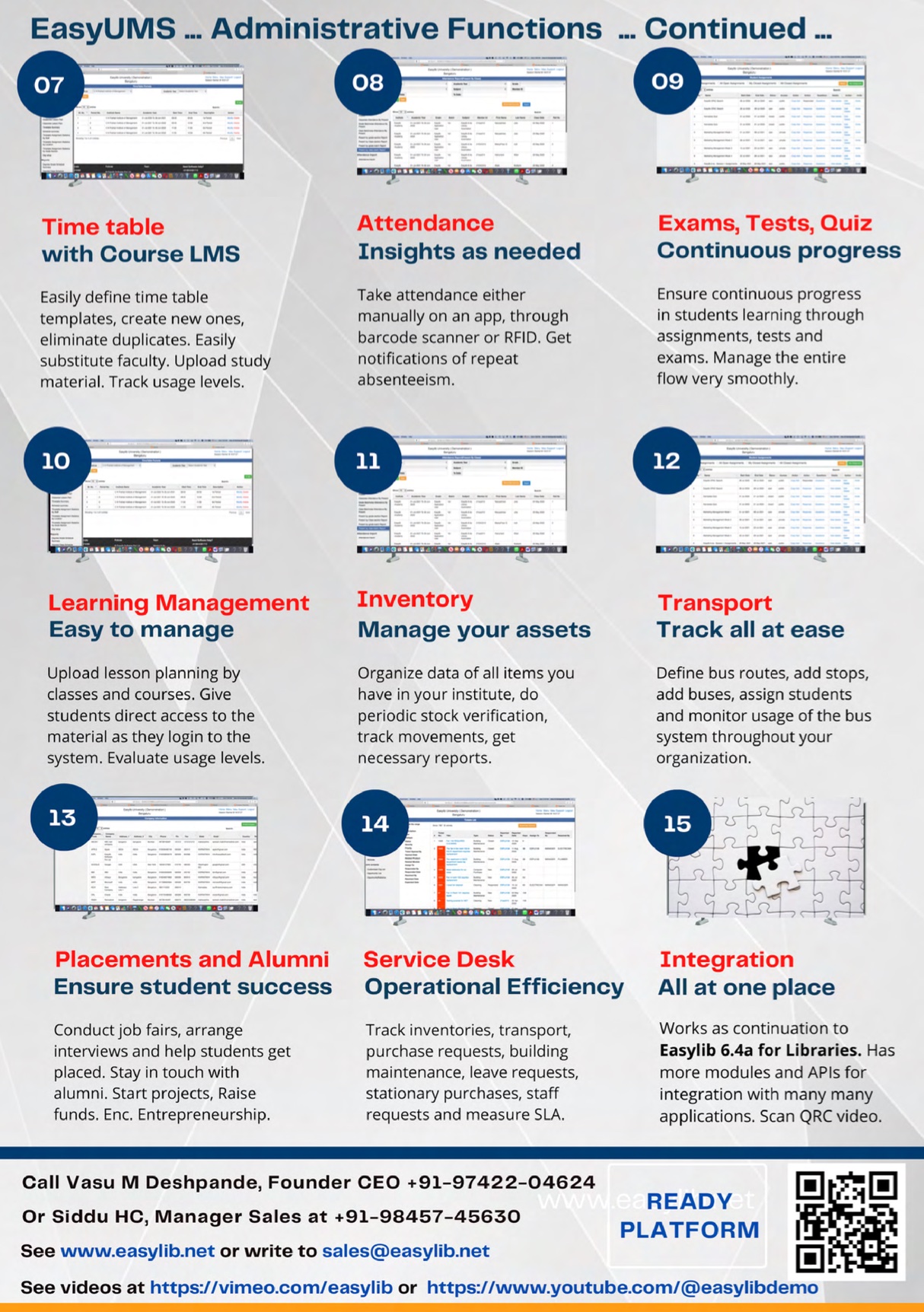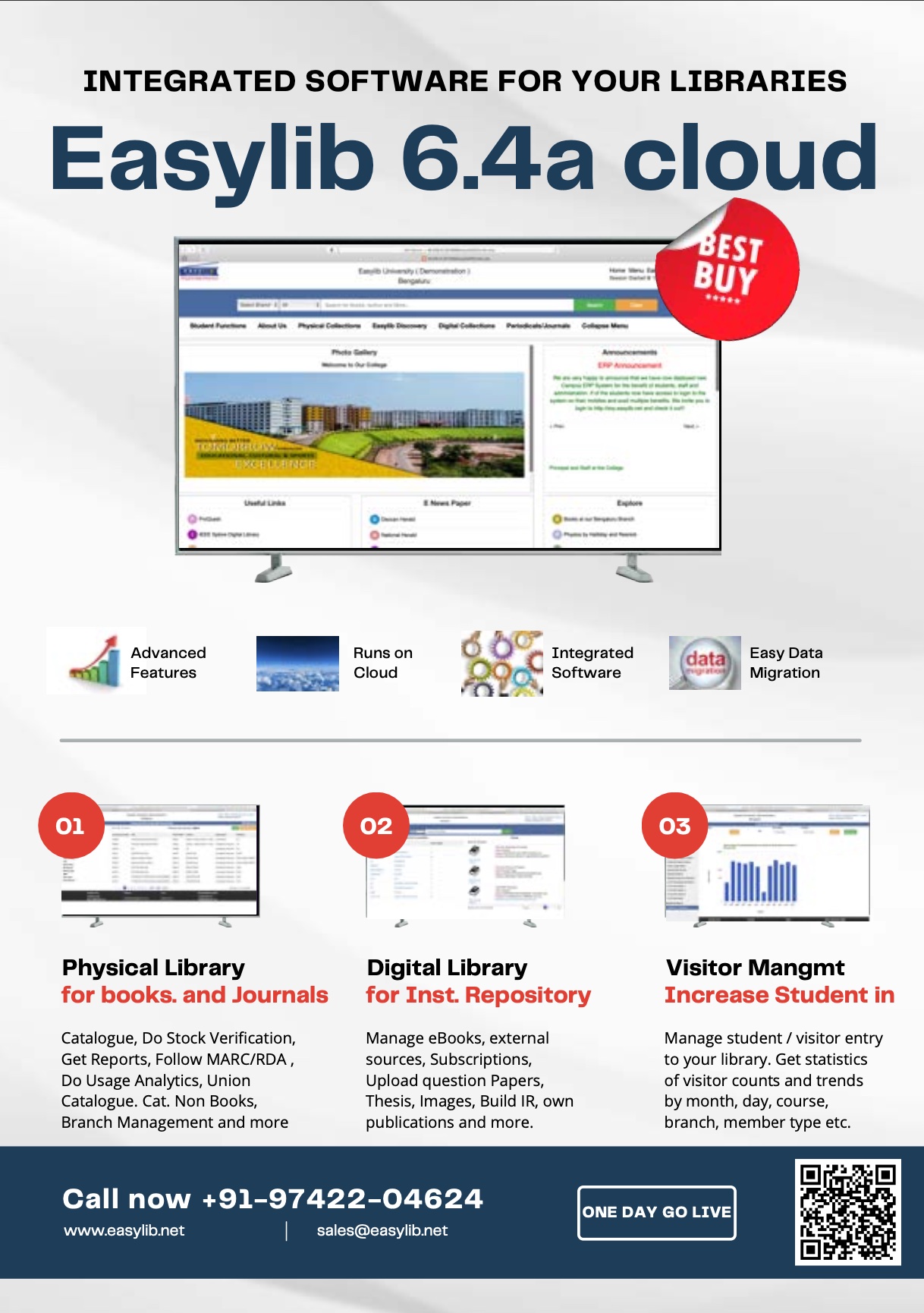 See Webinar on Getting Freedom from Complexities of Technology
Swarna Jayanti of Sri Kottala Basaveshwara Bharateeya Shikshana Samithi Sedam
Happy Librarians Day
On the Occasion of National Librarian's Day we pay tributes to Dr. S. R. Ranganathan's as well as recognise the important role that librarians play in promoting education, information dissemination, and to the overall intellectual growth of society.
Read more about Dr. S R Ranganathan
Subscribe to our mailing list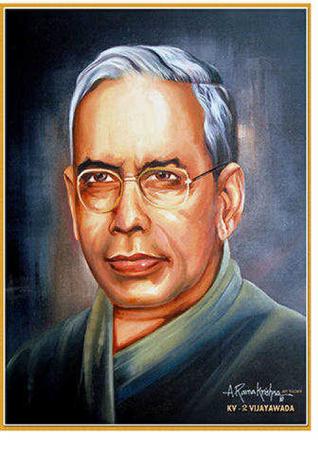 Whether you are a school or college or a University, Easylib is right for you
Easylib has now launched EasyOne, that is one application that your organisation must have. It provides all the features like Admissions Management, Academic Administration, Student Master Data Management, Communication, Institutional Repository, Library Functions, Research Management, Placement, Kiosks, Barcode and Id Cards and much more.
See Easylib Demo
Subscribe to our mailing list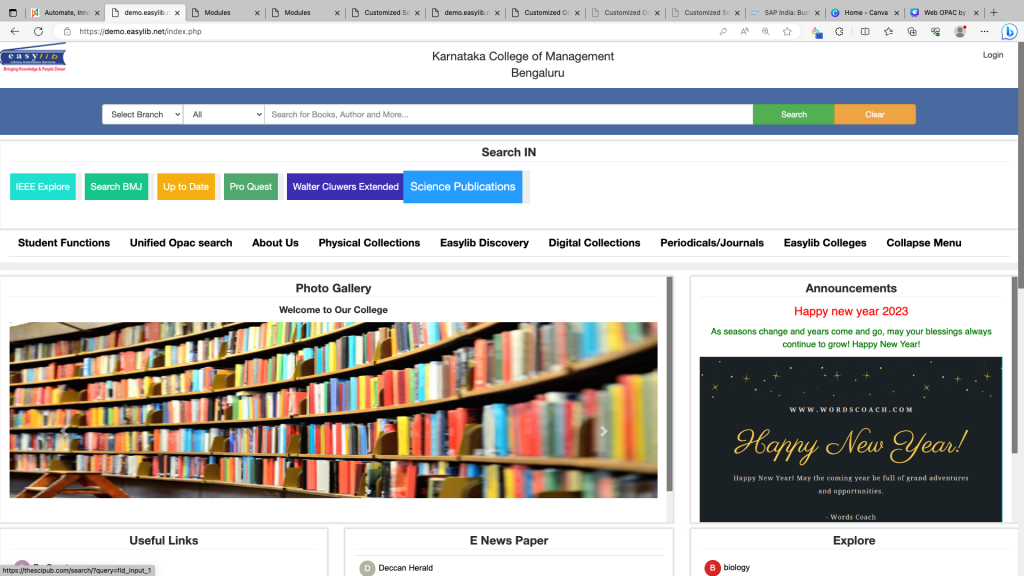 Solutions built for your organisation
EasyOne Campus ERP
EasyOne is the all inclusive one system for your University, College or School Administration. It encompasses all functions starting with campaign management all the way till placement and Alumni Management. Read More
EasyLib for your Library
EasyLib, that stands for Entire Automation System for your Libraries, helps you manage your catalogue, circulation, periodicals, digital library, visitors, library promotion and much more on one platform. Read More
EasyInv for Inventory
Manage data of everything that you have in your organization including your buildings, computers, furnitures, electrical appliances, lab equipments and much more on one single advanced platform. Read More.
EasyLMS
EasyLMS brings in a very friendly Learning Management System for use. Students when they login, will see the list of courses they are enrolled in, will get week wise schedules, will get to access learning material and so on. It is a very intuitive application making learning fun and easy. Read More
Product Status
All these Products and platform are ready for usage.
Scholarships
Announce scholarships, take applications, evaluate the forms, find donors, grant scholarships, track progress, complete the cycle when students become donors
Fund Raising
Review sample project plans, copy as needed, write your own project plans, send to companies, get CSR funds, deliver projects, evaluate the impact and repeat the cycle. Read More
Event Management
Schedule events, build registration forms, take registrations, print registration forms, track attendance, stay in touch for regular communication. Read More
Survey Management
Design Surveys, Send to potential respondents, get the responses, send reminders, collate response data, analyse the results, initiate projects to do improvements, and repeat the survey cycle. See Video
Alumni Management
Seamlessly transition your data from ERP to Alumni Management System. Maintain Alumni Database, Conduct Events, Form Alumni Groups, Come up with new projects, stay in touch, make things happen. Read More
Barcode Print
Design various layouts of barcode on different sizes of papers. Load the data of students, books, journals or any free flow text or numbers. Fetch data from DB. Print on normal A4 or Other papers. Read More
Id Card Design Print
Design your own Id cards for students, faculty, temporary staff, visitors and more. Gets data from database as well as allows to add things like images and custom fields. Easy to get started and use long term. Read More
Display Board Mgmt
Simply create images of your notifications you intend to display at campus. Upload them onto EasyOne and set timings and order for various images. Set at one place and display any where in the campus. See Video
Project Management
Project Management Platform gives you ability to define own projects with scope, cost, schedule in mind. Identify various activities underneath and track to completion.  Read More See Video
Sales Desk
Build your Sales Pipeline with Lead generation, Lead qualification, Opportunities, Weekly Reviews, Sales Funnelling, Activity Tracking, Proposal Generation and all the way till getting order. Read More
Service Desk
Give your staff, students and customers ability to open tickets when facing issues or when having requests. Maintain all the way till resolution. Measure with SLAs and Continually improve performance. Read More
Asset Management
Track all the assets you have in your organisation including buildings, furnitures and more. Easily print barcodes for those as well as do annual stock verification. Transition to Service Desk system for services. See Video
Transport Mgmt
Transport Management System makes the job of maintaining all your bus routes, stops in the town, student enrolments to the various routes all easy. Additional features include real time sharing of data when students get in or get out. See Video
EasyOne suites of applications – Key differentiators
Ready System
Easylib systems listed above are all ready and tested. Many modules run at as many as 130 plus customers. Over the years the system has undergone time testing under various production scenarios.
Easy Migration
Easylib has proven data migration techniques from your existing system. Most of the migration happens without actually going to the database using screens alone. It makes data migration smooth as well as reliable.
Superior Service
Easylib has built in support mechanism in the application. Your system is connected to our support system on a real time basis. This helps monitor the application as well as give you ability to seek help as needed.
Time Tested, Proven and Reliable Deployment Methodology
Upgrading to EasyOne or EasyLib is very Simple!!
See the demo of the application (60 minutes), 
place the provisional order (30 minutes),
get your own Easylib instance as yourcollege.easylib.net (60 minutes), 
import your data (180 minutes), 
attend basic trainings (60 minutes) and 
keep using Easylib (Life time)
Still have more appetite, try our newer modules
Ticket management system to help you ensure nothing important gets dropped
Frequently Asked Questions
Is Easylib integrated library package? Yes, Easylib is an integrated package for your library in order to manage your physical collections, journal subscriptions, digital collections, your visitor management and much more.
What all standards it meets? Easylib digital library follows Dublin Core Meta Data Standards. The Cataloguing Module allows data transfer using MARC21 format. It is also compliant with RDA.
How often product upgrades are launched? Easylib follows Agile Continuous Improvement method of development and new features are added every fifteen days. However due to the complexity of upgrade, customers can plan to upgrade on a yearly basis.
About Deployment
How do you migrate our existing data? We have written a lot of import routines. The import options are available for Student Data, Cataloguing, Circulation Data, Time Table, Attendance, Digital Library and much more.
How much time it requires to start using Easylib for our organisation? Once you place the order, usually a new instance gets created within a day and based on the data volume, data migration usually takes approx. one week
How are we trained? Training happens in three levels. First level includes online quick course to get you started. Second level includes in person visits or more dedicated online training. Third level includes self paced LMS driven alone training.
About Support 
How to request support? Easylib has built in Support option. It gives you option to open a ticket as needed as well as see history of past tickets opened. Once a ticket is opened, usually our team responds same day. Resolution is provided in between one and five days
Is phone support provided? Yes, once a ticket is opened, our team works with your staff to provide necessary support to make effective use of the application
What about in person visits? Usually we try to make one visit to every customer each year, who have taken AMC with Annual Visit. Usually the visits in a area or city are grouped together. You are requested to work with our support staff to coordinate visits