Upgrading to Easylib is very simple and straight forward process. See the demo of the application (60 minutes), place the provisional order (30 minutes), get your own Easylib instance as yourcollege.easylib.net (60 minutes), import your data (180 minutes), attend basic trainings (60 minutes) and keep using Easylib (Life time)
Our software platform offers you the following features
Easylib 6.4a Cloud Version Demo for Your Library
Easylib 7.2a Cloud Campus ERP for your educational institute
Time to evaluate, load the data, attend training – a few hours. Joyful usage – a few years.
Cost of Easylib license, hosting and maintenance – A few thousands a year. The joy of staying ahead – precious.
Time Tested, Proven and Reliable Deployment Methodology

Rich features to help you differentiate yourself
Student (OPAC) Features
Search on your physical library

Search in Digital Library
Search in Journal Subscribed
Access partner libraries
Use Federated Search
Read full text digital content
See New Arrivals
See Current Circulation
See Circulation History
Reserve and Renew
See New Arrivals
Maintain Personal Library
Access Own Documents
Access Campus Functions
Password Reset
Register for Events
Recommend Books
Give Feedback
Staff Standard Features
Requisition Analysis
Acquisition Process
Quotation Comparison
Cataloguing
Catalogue Reports
Stock Verification
Membership Management
Circulation
Serial Control (Periodicals)
Generate Receivables
OPAC Set Up

Customized Reports

Customized Statistics

Analyze Library Usage

Print Barcodes
Govern Security
Email and SMS Gateway
Z39.80 and APIs
Staff Advanced Features
Vendor Login to Quote Prices

Schedule Due Notifications
Customize Own Dashboards
Upload Display Boards
Student Satisfaction Survey
Visitor Management
Performance Analysis Ability
Manage Own Publications
Logins for NAAC/NBA/NMC
Print Student Id Cards
Form User Groups
Data Quality Assessment
Manage Multiple Branches
Form Union Catalogues
Write Own Reports
Visitor Management
One Click Support
Expand to Campus ERP
Easylib Library System Photo Gallery (Screen Shots)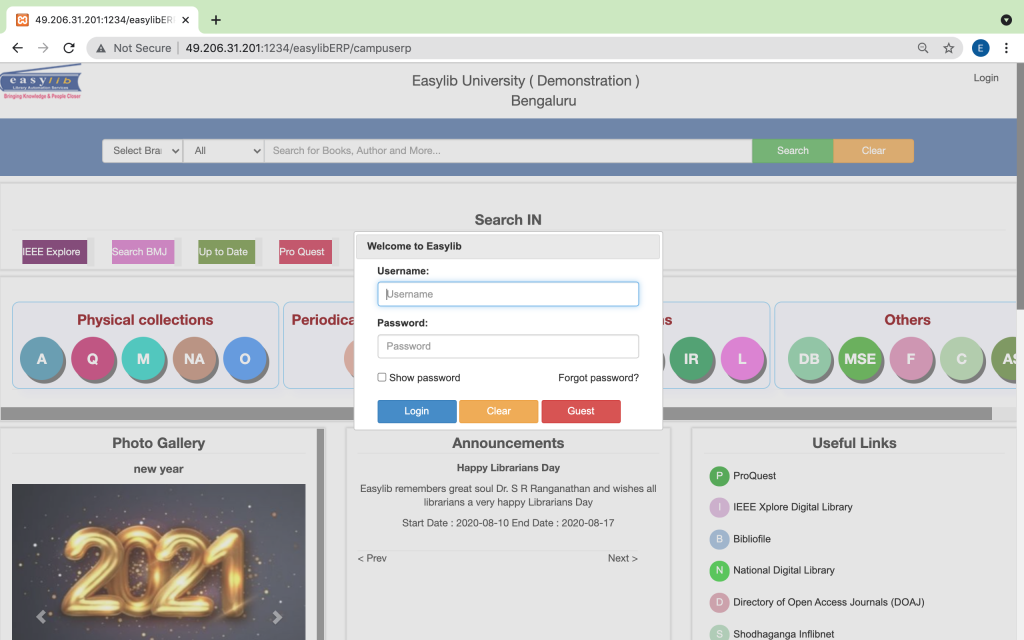 And it does not stop here. Expand to Campus Administration System.
Easylib Campus Administration System Photo Gallery (Screen Shots)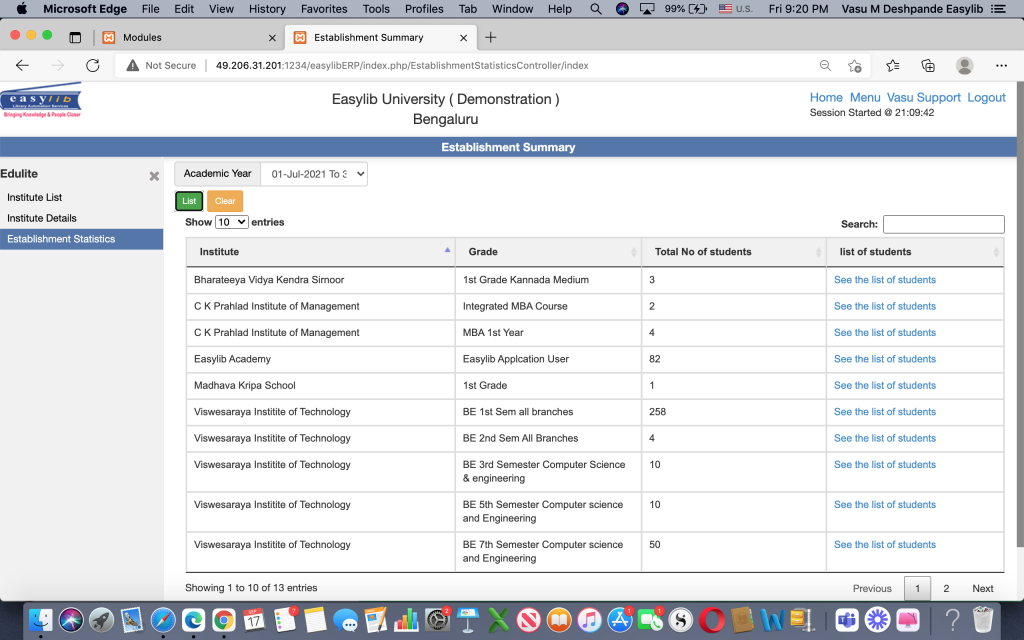 Establishment Features
Set up all institutes in society
Set up your buildings and rooms
Define academic years
Define courses, fees,
Define exam types, exams
Announce Admissions
Collect Applications Online
Review and Grant Admissions
Manage Fees and Reminders
Maintain Student Master Data
Maintain Staff Master Data
Teaching Faculty Feature
Publish Syllabus
Build Yearlong Schedule
Make Lesson Planning

Offer Classes offline / online

Mark Attendance
Upload Assignments
Upload Quizzes
Assessment
Conduct Exams
Evaluate and Enter Marks
Generate Marks cards
Administrative Features
Set up role based homepages

Design and Print Id Cards
Manage Entire Inventory
Manage Student Transport

Alumni Management

Placement Management
Schedule Batch Alerts
Generate Reports as Needed
Interface through APIs
Manage Projects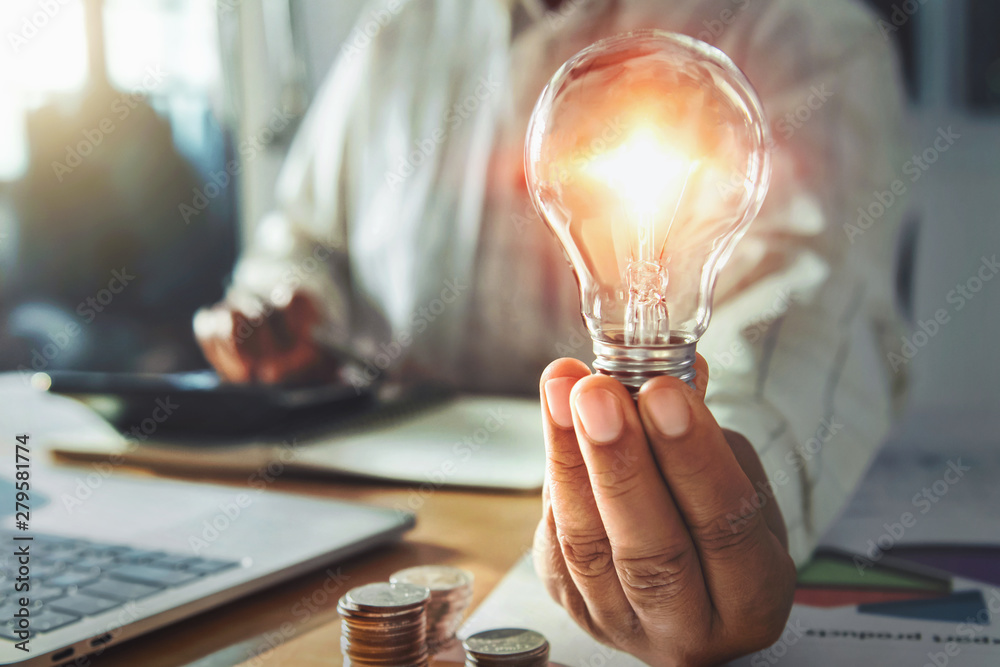 About Easylib
Easylib is an innovation focused company. We breathe innovation. It is in our genes. The range of products we offer are at the forefront of the domain. Samples products include – Campus Automation, Library Automation, Customer Relationship Management, Scholarship Management, Fund Raising for Trusts and much more.
Still have more appetite, try our newer modules
Scholarships
Announce scholarships, take applications, evaluate the forms, find donors, grant scholarships, track progress, complete the cycle when students become donors
Ann
Fund Raising
Review sample project plans, copy as needed, wriite your own project plans, send to companies, get CSR funds, deliver projects, evaluate the impact and repeat the cycle.
Ann
Event Registration
Schedule events, build registration forms, take registrations, print registration forms, track attendance, stay in touch for regular communication.
Ann
Ticket management system to help you ensure nothing important gets dropped
Sample Clients of Easylib on Easylib 6.2a or 6.4a Cloud Version
Nitte University, Mangaluru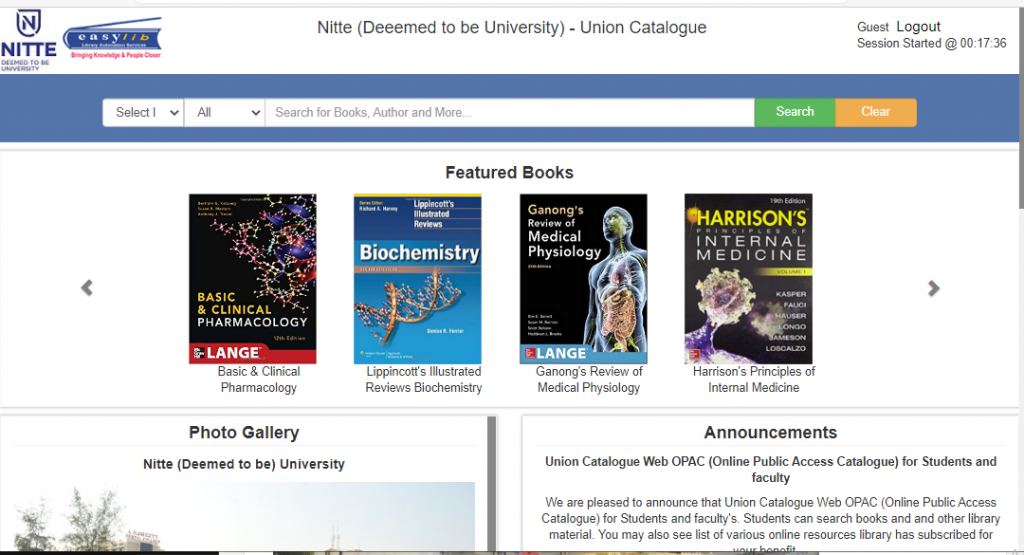 Ten colleges under Nitte University use Easylib. Also have a Union Catalogue built helping them get a unified view of the collections, share resources as well as give the best of the features to students and teaching faculty.
SDM University, Dharwad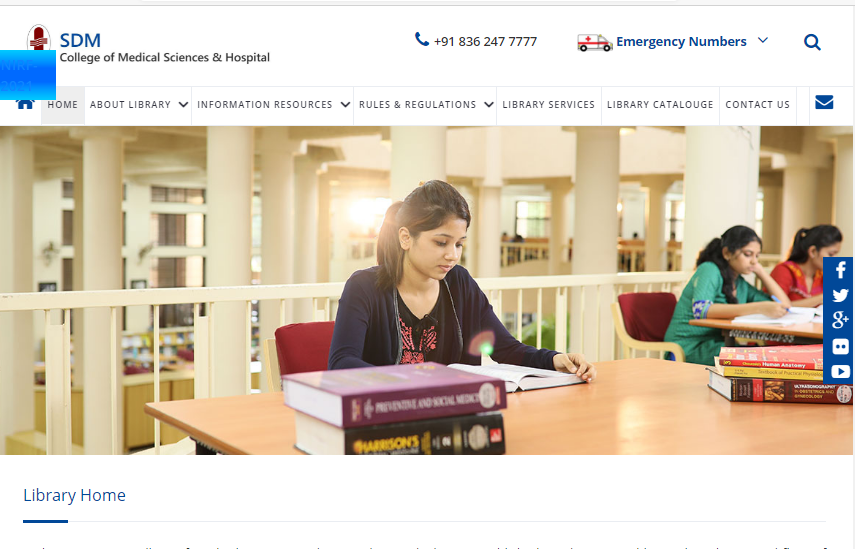 Five colleges under Shri Dharmasthala Manjunatheshwara University Dharwad use Easylib software for their medical and other health science colleges. Easylib client for more than a decade.
KLE University, Belagavi
Over ten colleges in KLE Group Belagavi use Easylib software to manage their library operations and a few of them on the latest version of Easylib software.
College of Fine Arts
Chitrakala Parishat and College of FIne Arts at Bengaluru manage their special library that has unique collection of books, designs, drawings, sculptures on Easylib Library Software.
Al Badar Dental College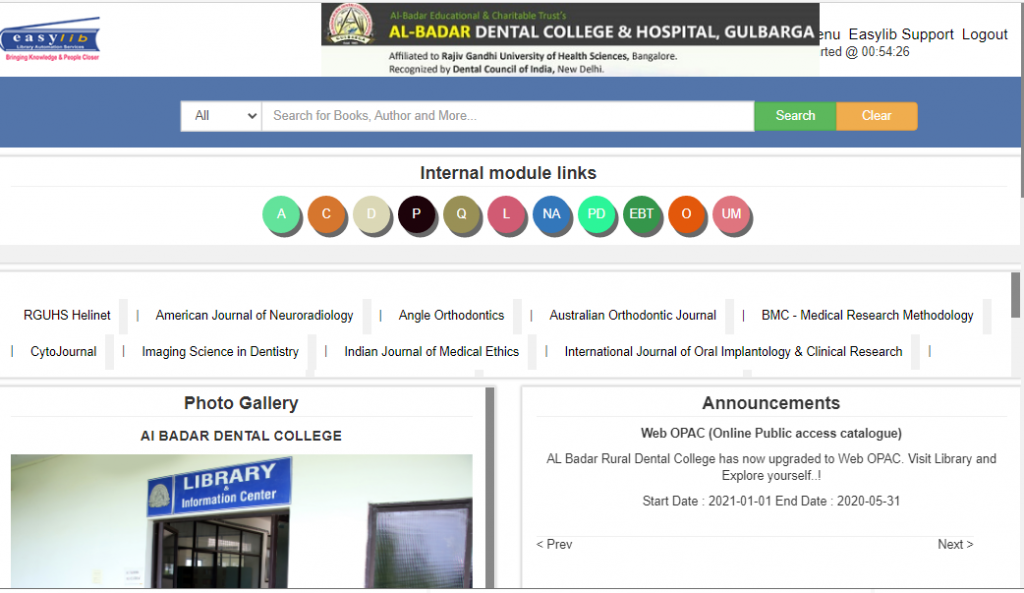 Albadar Dental College, one of the most reputed dental colleges in Northen Karnataka uses Easylib to manage their library operations.
Mount Carmel College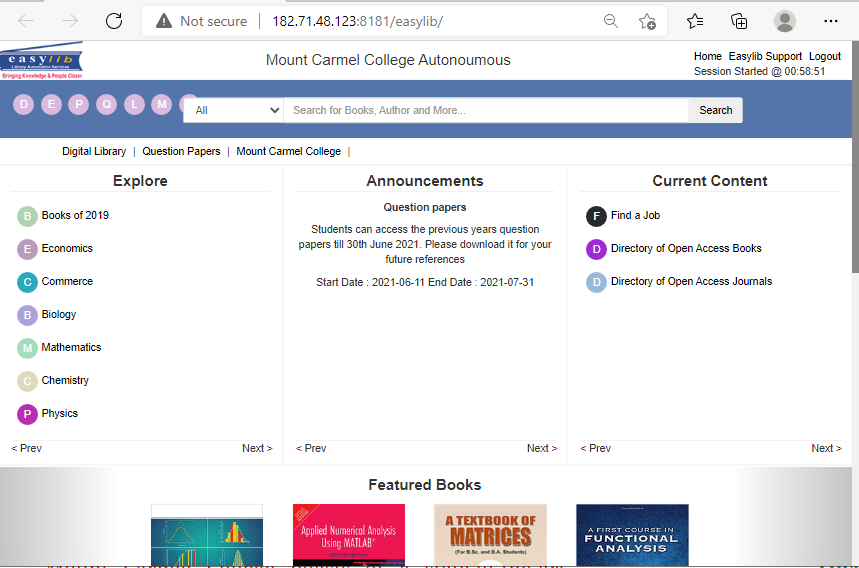 Mount Carmel College at Bengaluru with more than 2,000 issues and returns per day uses Easylib integrated with RFID Technology.
Alvas Group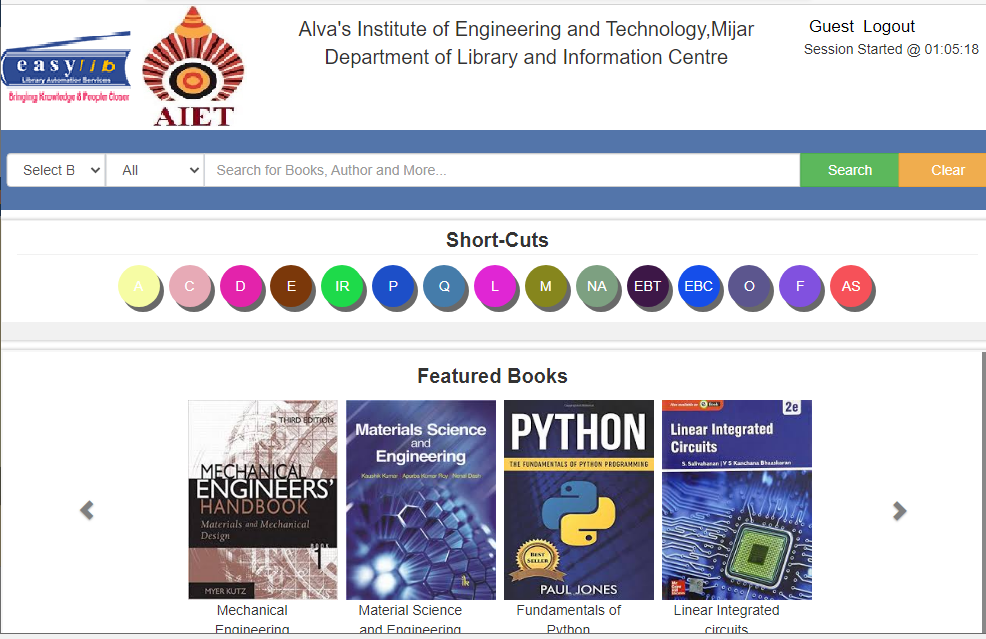 Alvas Engineering, Ayurvedic, Homeopathic and Degree colleges use Easylib latest version. Alvas Engineering College has RFID integrated with Easylib and stands apart in terms of excellent service.
Vidyodaya Law College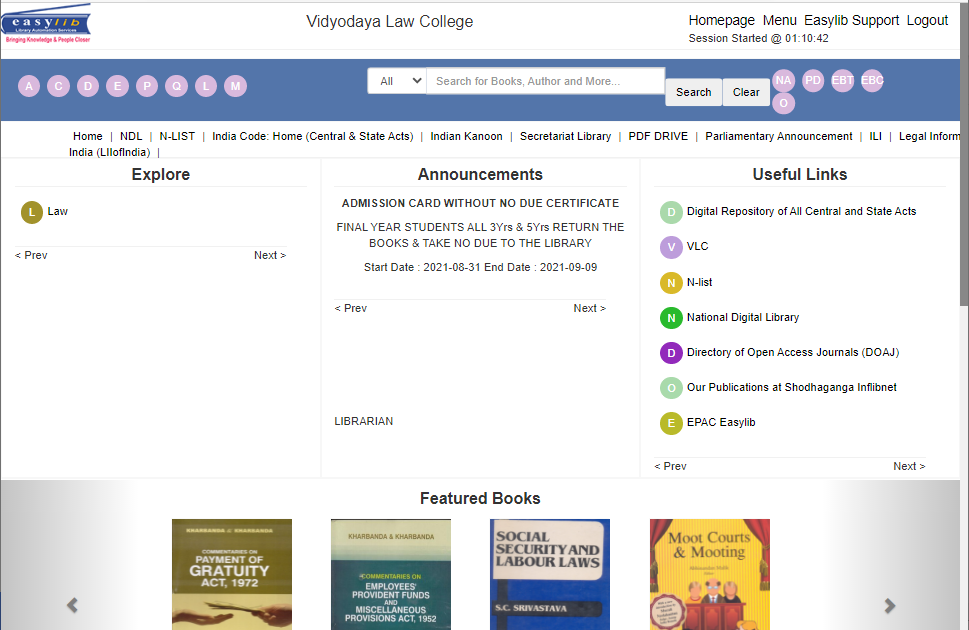 Vidyodaya Law College Library at Tumakuru has taken initiative to catalogue not only books but also thousands of digital material helpful to law students.
Rani Channamma University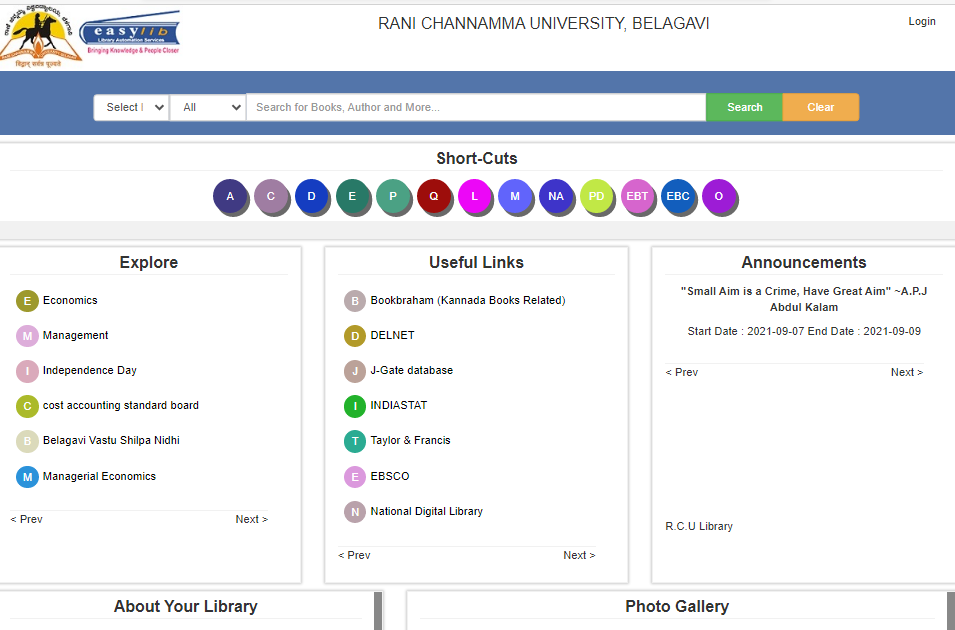 Rani Channamma University uses Easylib to manage their entire library system across main campus and two additional colleges and PG Centers. Truly state of the art solution it has sharing resources among the three branches.
Join an elite group of over 600 proud customers of Easylib today.